BF Goodrich Trail-Terrain T/A Tyres Available in Boreham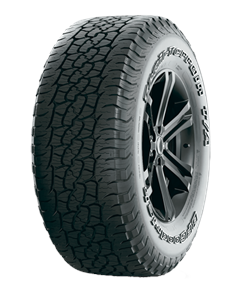 Trail-Terrain T/A
Our passions often lie outside the road's painted lines. We engineered our latest tire for both on-road performance and light off-road situations.
So, take on the world as you see fit.
Years of experience and testing in some of the toughest conditions on Earth have resulted in a tire that thoroughly and consistently defies expectations. Here's why.
60,000 MILE WARRANTY AND 60-DAY SATISFACTION GUARANTEE
We chew up dirt. We grind through snow. We happily weather the abuse of standard city roads. And still -- through all of that -- we offer a 60,000 mile standard warranty to prove our dependability.
SEVERE SNOW RATED
The 3-Peak Mountain Snow Rating denotes the severe snow driving capability of the Trail-Terrain T/A®, which exhibits powerful traction long after the mercury drops.
OFF-PAVEMENT CAPABILITY
Trail-Terrain T/A® features full-depth 3D sipes that create plenty of grip in any condition without compromising road noise.
BFGOODRICH® TIRES SIGNATURE SERRATED SHOULDER
Our signature shoulder design gives the tire a powerful look, and serrated shoulder blocks enhance traction in soft-soil situations
STRENGTH TO SEEK ADVENTURE.
DURABILITY TO SEE IT THROUGH.
You never know where the road will take you. So we prepared for everything. When you roll on our latest tire, you're driving on plenty of on-road performance with light off-road capabilities. Because if you wait for perfect weather or perfect road conditions, you'll wait forever. The Trail-Terrain T/A® is engineered to ensure you can live life on your terms, regardless of the adventures you chase.